Mbunarium 900l.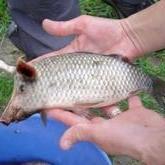 Mbunarium 180x80x65
Filtracja: Tetra ex1200 jako biolog, 2xAtman At-203 jako mechaniki
Oświetlenie: 28x6500K Power Led 5W skręcone do ok. 100W, 12x3500K Power Led 5W z kolimatorami 5°. Razem ok. 160W
Tło to fototapeta za tylną szybą. 
Podłoże z wapienia, reszta wystroju to piaskowiec. Akwarium bez piasku. Wszystko to ponad 400kg.
Obsada: 13 x Pseudotropheus acei itungi, 10 x Melanochromis loriae, 10 x Metriaclima sp. dolphin Manda. Dojdzie jeszcze Labeotropheus trewavasae chilumba 2+4, Synodontis petricola x 5 i coś jeszcze.
20
---
Photo Information for Mbunarium 900l.